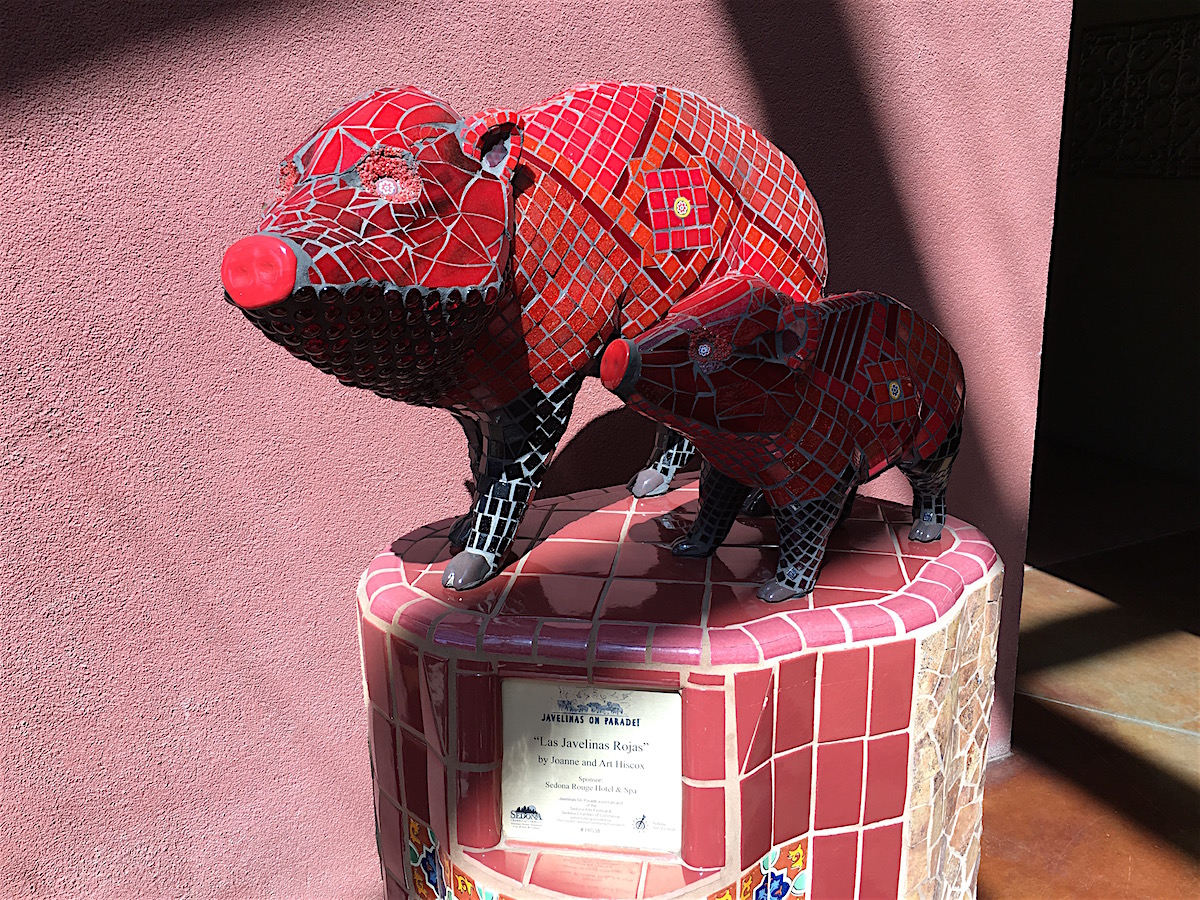 Javelinas On Parade ~ Sedona Arizona
"Javelina On Parade" ~ Inside the Sedona Rouge Hotel & Spa is their restaurant "Reds". I like to go their with clients and my husband because it is quite and you can conduct business easily.  Besides, the food and service is good!  Right in the hotel foyer, you can find the art work in the featured image above. 
Back in 2005, Sedona decided to answer a call to Chicago's "Cows on Parade" which was established in 1999. In Chicago, you would see cows painted in different artistic ways. 
Here in Sedona, highway construction was about to begin so the Chamber of Commerce and Sedona Arts Festival who were looking for ways to boost tourism, got this idea to create 50 pairs of Javelina. Businesses could sponsor 
these for $2000, commission artists and place them prominently somewhere adjacent to their business.  As you stroll the streets of West Sedona, Uptown of Village of Oak Creek, you may see one of these pairs all gussied up.
Javelina Are Not Pigs…
Though Javelina may look like a wild boar or pig, they are in the peccary family.  They are native to North and South America.  Pigs were brought to the new world and are not related to Javelina. Javelina seem to like fruits, vegetables and garden plants and roots. But they will eat meat as well. Actually, they will eat just about anything.  They go after the grubs in grass. This means that lawns are constantly being dug up.  They can roam as a large family of between 20 and 30 but normally in smaller group of less than 10. In some cases, the alpha male will kick out the less dominant male to roam alone. You know when a Javelina is nearby because it stinks….a lot!  
Caution – Javelina are very skittish and they might bite if they are cornered.  Don't get too close and don't try to feed them especially out of your hand.  
---
---
~ ~ ~
As a Coldwell Banker Residential Brokerage Sedona Arizona REALTOR®, my primary goal is to help my customers obtain their dreams, as well as satisfy their financial goals and objectives through real estate.  From the moment I am contacted, you will observe my seasoned ability to provide you with "World Class Service" and that "personal touch" while utilizing a complete package of technology options that are of the utmost importance and so critical in today's market. I will tailor real solutions to fit your specific needs. 
~ ~ ~
Learn about Sheri Sperry and the 
++++++++++