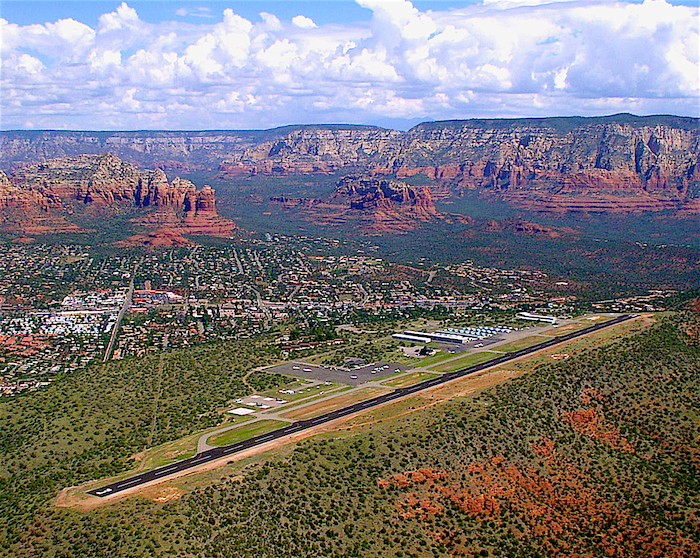 As I write this at 11:30 am, it is 105º in Sedona! This is extreme heat for our area. 
Excessive Heat May Affect Arizona Airports
Southwest Take Off From Sky Harbor (PHX) During Monsoon
---
American Airlines – just one example… Already cancelled 40 Flights for Wednesday
American Airlines issued an alert to it's customers for any who have tickets leaving PHX Monday, Tuesday or Wednesday between 3pm and 6pm, American will allow the customer to change their departure without any charge.  This is because there is no guarentee that aircraft will be able to take off because of the excessive heat. If you have a departure leaving Mesa Airport, you should also check with your carrier to make sure there are no delays.
Besides soft asphalt conditions at 118º plus, planes and equipment can sink into asphalt! Shoe soles get hot some will melt! Also, Certain aircraft may not be able to create enough lift to get off the runway.  The air becomes much thinner and lift becomes a real issue and it takes a lot more runway to get the aircraft wheels up!
Ground Crews
Let's also not forget the ground crew. This is a safety issue for them as well. OSHA – Occupatoinal Safety and Health Administration has recommended that outdoor workers who are working in heat between 103º to 115º should drink at least 4 cups of water an hour  but no more than 6 cups an hour … – So about every 15 minutes grab a cup of water. Try to stay out of direct sunlight.
If you are going ot be outside:
Only hike in very early morning or late evening before sun comes up and after it goes down. 
Do not go on long hikes – especially hikes with elevation changes.
Keep plenty of water with you – use same standard as above for workers.
Stay in the shade!
Stick to water sports when possible.
How Does This Affect Real Estate Clients?
Realtors have to be very careful making sure clients stay hydrated while viewing homes out in the field on days that have extreme heat. 
Explain our heat to out-of-state buyers so they can monitor themselves.

Make sure you monitor your clients to see they stay hydrated. 

Bring a cooler with plenty of ice and bottles of water.

Keep hand towels available that can be dipped in some water to cool you down. There are cooling towels you can buy.

Keep viewings to a reasonable amount. Take breaks and lunch if a full day is planned.

Make sure homes have the AC turned on prior to viewing.

Stay in the shade as much as possible

Keep a couple of shade umbrellas handy for fair-skin buyers 

Have discussions about homes in your car with AC turned on!
---
Actual Warning For Northern Arizona. –  
NOTE: I understand that the National Weather Service has issued a new warning for Central and Southern Arizona taking the time out to Saturday!
National Weather Service reports…
... Excessive heat warning remains in effect until 8 PM MST
Thursday... 

* affected area... northern Gila County, Yavapai County valleys 
  and basins, Oak Creek and Sycamore canyons, Marble and Glen 
  canyons. 

* Temperature... mid 90s near 6500 feet, 112 to 116 degrees in 
  the lowest valleys. Hottest days Tuesday and Wednesday. 

* Impacts... a prolonged period of hot temperatures is expected 
  and will significantly increase the potential for heat related 
  illness. Those without access to adequate air conditioning and 
  hydration will be most at risk. 

Precautionary/preparedness actions... 

An excessive heat warning means that a prolonged period of
dangerously hot temperatures will occur. The hot temperatures
will create a dangerous situation in which heat illnesses are
likely. Drink plenty of fluids... stay in an air-conditioned room
if possible... stay out of the sun... and check up on relatives and
neighbors.

Take extra precautions if you work or spend time outside. When
possible, reschedule strenuous activities to early morning or
evening. Know the signs and symptoms of heat exhaustion and heat
stroke. Wear light weight and loose fitting clothing when
possible and drink plenty of water.


---
If you select Sheri Sperry, she will provide marketing
that most agents reserve for luxury homes only.  
Beside professional photography, – aerial pictures and video are included.
Our marketing materials are customized with you and your home or property in mind.
We ask the question. "What type of marketing will attract the right buyers?"
Call Sheri for a custom listing presentation designed especially for you.
For more information and expert strategy analysis of your property
Contact Sheri Sperry – Coldwell Banker Residential Brokerage of Sedona – REALTOR®.
Complimentary Consultation over the phone or in person. 
You need a Master Certified Negotiations Expert –  MCNE® working for you!
SaveSave
SaveSave