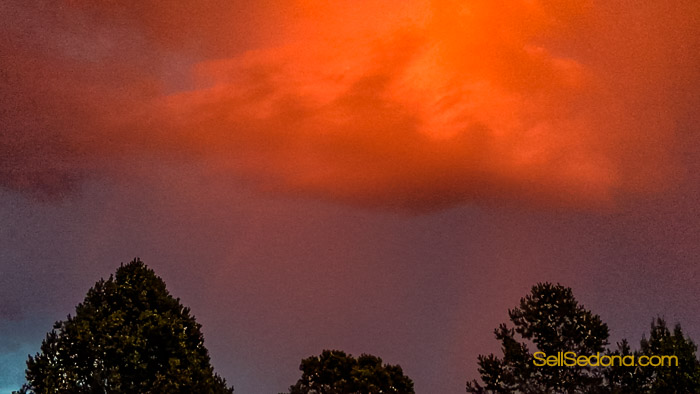 Sedona Monsoon 2017
Mother Nature Put On A Show
This Sedona Monsoon 2017 storm came through right at dusk. There is slight rainbow (hard to see)  in the last segment of the  lightning bolt. It was easy to make out the red, orange and yellow colors with the naked eye.
Some of the lightning was so strong and close that the image in the screen was completely washed out!
A few days ago on the local evening news the station asked a question, "Are you still waiting for monsoon?"  Monsoon may not hit every community as a storm comes through. The energy of the cell can be concentrated in small areas as it moves through. 
I would have been in the 65% of the people that said they were still waiting for monsoon. As of yesterday, that has changed!  Mother Nature decided to send not just one cell, but two!  The microbursts went right through Sedona about a half hour apart. We had about 1.15 inches of rain in a short time. Rick and I sat outside and enjoyed the show. Something we have not done in quite some time. 
As I am writing this, another cell just came through! The microburst dropped about half an inch of rain in half an hour. When the rain came the temps dropped about 25º in 20 minutes! It is now a pleasent 62º.  You gotta love it!
---
As a Coldwell Banker Sedona Arizona REALTOR®, my primary goal is to help my customers obtain their dreams, as well as satisfy their financial goals and objectives through real estate. From the moment I am contacted, you will observe my seasoned ability to provide you with "World Class Service" and that "personal touch" while utilizing a complete package of technology options that are of the utmost importance and so critical in today's market.
I will tailor real solutions to fit your specific needs. – Sheri Sperry –
YOUR Solutions REALTOR®
See Reasons Why Sheri Is Your Solution
+++++++++++