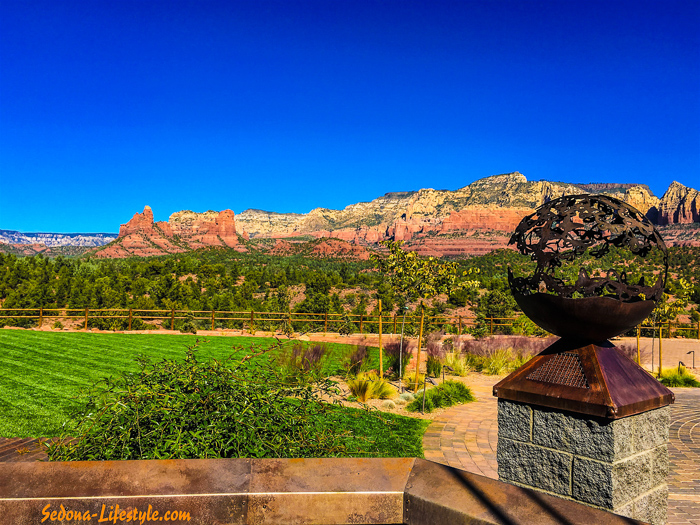 Sedona's Mariposa Restaurant
Named in Open Table's 100 Most Scenic Restaurants in America 
There are only two restaurants in all of Arizona that carry this distinction with the customers of Open Table.  
Vivace Restaurant in Tucson was the other Most Scenic in America. 
 The Restaurant Scene In Sedona is a Summer Treat
Enjoy Outdoor (Al Fresco) Dining With A Red Rock View
Sedona's Mariposa Restuarant – After seeing these photos, I am sure you might agree that the views from this restaurant that inspires South American and Central American cuisine are amazing.  There was a real estate office located on this bluff before this restaurant existed. It had been there for decades. The office sat empty for the longest time. I always thought that this was some of the most beautiful views in all of Sedona.  The property stares directly into the stunning views of Soldiers Pass.
Staggering Red Rock Views
As you walk up to the restaurant, your eyes are drawn to the 1000 pound handcrafted African and South American stone. The door opens with a power assist! The interior of the restaurant is another art form in and of itself. From the glass-enclosed wine vaults to the floor to ceiling windows and magnificent artwork and light fixtures. Everywhere you look is a feast for the eyes!
Chef Lisa Dahl
Chef Lisa Dahl is a pioneer in the culinary scene of Sedona. I have had the opportunity to talk with her about Italian cuisine when she had a store attached to her signature restaurant in the Village of Oak Creek "Cucina Rustica".  Mariposa may now be her flagship restaurant, but Lisa's first store was Dahl & Di Luca Ristorante Italiano. Pisa Lisa pizzeria autentico was added in a redesigned failed Pizza Hut building. She took it over after another Mexican restaurant failed. Redesigned the building inside and out and created a spot where you could have casual dining on artisan pizzas and salads. She also moved her modest store of Italian pastries and other goods to this location.
Recommendation(s)
I personally would recommend all of Lisa Dahl's award-winning restaurants. But if I want to impress, I make a reservation for lunch and dine on the enclosed patio of Mariposa. I am blessed to have a restaurant of this quality within 5 minutes of my office and home. To me, the views don't get much better.
Other Great Choices
Besides Lisa's restaurants, there are a few other fantastic choices I like to take special people to. Any restaurant in the Enchantment Resort is an experience and clients of mine deserve to see and enjoy this hidden gem and the restaurants within the resort. The drive through Boynton Canyon is pretty special. It takes about 1/2 hour to get there from Uptown because it sits way back in the canyon.  Red rock walls surround the entire resort.
View from Tii Gavo
Another wonderful option is L'Auberge de Sedona located on Oak Creek in Uptown. During summer, there is no better place to be than on the banks of the creek at the Cress Restaurant.
It is considered one of the"Top 100 Al Fresco Dining" spots in the USA by OpenTable.
Al Fresco Dining at L'Auberge de Sedona on Oak Creek
---
If you are still looking for other restaurants that offer wonderful views, a great menu, and Al Fresco dining options.  Give me a call (928) 274-7355 and I will be happy to assist you.
 * * *
---
Want to find out how much value is in your home?
I'll walk you through it all.
Complimentary Homeowner Consultation
As a Coldwell Banker Sedona Arizona REALTOR®, my primary goal is to help my customers obtain their dreams, as well as satisfy their financial goals and objectives through real estate. From the moment I am contacted, you will observe my seasoned ability to provide you with "World Class Service" and that "personal touch" while utilizing a complete package of technology options that are of the utmost importance and so critical in today's market.
I will tailor real solutions to fit your specific needs. – Sheri Sperry –
YOUR Solutions REALTOR®
See Reasons Why Sheri Is Your Solution