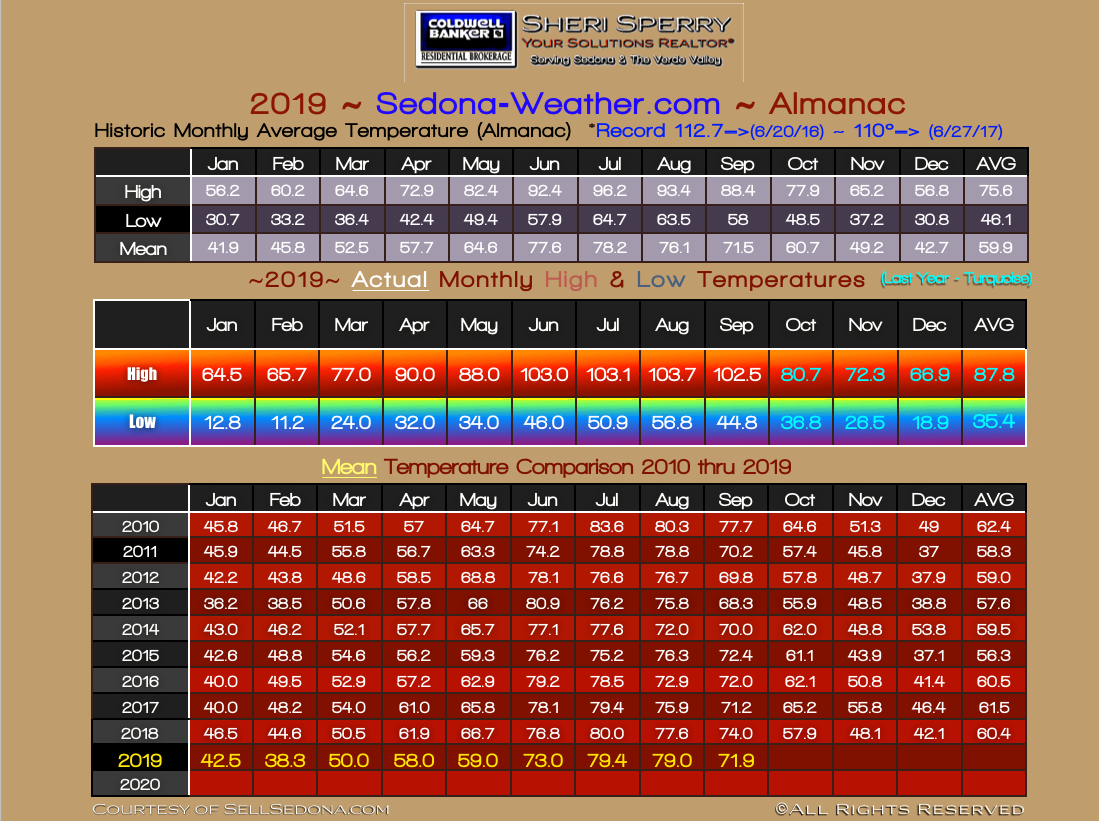 Sedona Weather Recap for September
A Disappointing Monsoon
Sedona September Weather Recap – Fortunately, the Cottages at Coffeepot in Soldiers Pass West Sedona received 1.26 inches near the end of the month. Unless we get a lot of rain these next 3 months, the lack of precipitation will negate the amount of rain we received in the first half of the year. Monsoon is now over and you would not have known there was a monsoon.
The Stats
Monsoon starts on June 15 and goes to September 30th.
During that time, Sedona accumulated 3.52 inches of rain. If you compare this to the 6.94 inches in 2018, the 2019 total is about one-half of 2018. This means warmer days because there is little cloud cover. June rarely has rain or cloud cover and this is why it is generally the warmest month of the year. In most areas that do not have monsoon conditions, August is generally the warmest month of the year.
Days with Rain in 2019 = 12
Days with Rain in 2018 = 32
Last Day of 100º+ Temps in 2019 = 09/04
Last Day of 100º+ Temps in 2018 = 08/19
As for 100º Temps – We average around 25 a year at an average 101º. 
The Warmest Days in 2019 were 103.7 in June and mid-August
We are on track to hit over 300 days of sunshine this year. 
(See more Stats below) 
September did start to cool down once the rain came. The average temperature was 77º for the month. Currently, the mornings are brisk and it feels like fall.  
Sedona September Weather Recap
Another month of perfect weather. The air conditioner has been off most of the month of September. It ran for about 15 hours during the entire month.
 * * *
---
Want to find out how much value is in your home?
I'll walk you through it all.
Complimentary Homeowner Consultation
As a Coldwell Banker Sedona Arizona REALTOR®, my primary goal is to help my customers obtain their dreams, as well as satisfy their financial goals and objectives through real estate. From the moment I am contacted, you will observe my seasoned ability to provide you with "World Class Service" and that "personal touch" while utilizing a complete package of technology options that are of the utmost importance and so critical in today's market.
I will tailor real solutions to fit your specific needs. – Sheri Sperry –
YOUR Solutions REALTOR®