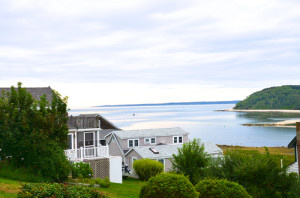 Having a second home in a favorite vacation spot (like Sedona) can be a great investment or an expensive luxury. A beach cottage or mountain retreat is enticing while both interest rates and home prices are low. How do you decide if it's right for you?
Sedona has a small town atmosphere. In fact, approximately 10,000 "locals" live here.  As you may already know, four to five million visitors enjoy what this town has to offer every year. Many decide to purchase for one of the very reasons below.  My husband and I came to Sedona loved it so much we decided to purchase a second home within a couple of days of our fabulous visit.  See a little snippet of my story below.
Make it your retirement home
If your second home is in the area where you plan to retire, buying it now, before you stop working and your income is higher might be beneficial. Beware, however, of tying up your cash or extending indebtedness beyond your retirement date. Also, avoid using funds from your 401K or other retirement accounts to purchase a second home.
Create a family getaway
If several family members will use the property, consider buying the property together. This concept is not without pitfalls, so make sure all family members understand how and when the property is available for use. Be sure to designate how interest in the property transfers to heirs or create a Cottage Limited Liability Plan (LLC) that governs both the use and transfer of the property. This is similar to a corporation, where members own "interest" in the property rather than the property itself.
Income property
You might be considering buying income property. Remember that the IRS considers income property a business that has tax ramifications. Be sure to check with your financial advisor or retirement planner before investing in property that you plan to lease or rent.
Rental property ownership requires ongoing expenses, including taxes, maintenance, mortgage payments (especially if the property sits empty), repairs between renters, insurance, and other costs. Income property ownership may provide ongoing income and be a great investment, but consider all the expenses before jumping in.
In Sedona, there are city ordinances that address rental property.  Some properties can only rent or lease on a long term basis.  Besides the city ordinances, there may be Home Owner Associations (HOAs) that have certain CC&Rs (Covenants, Conditions & Restrictions) that come into play. Some homes are "grandfathered" and fit into a unique category that allows short term rental.  Do your homework and decide what works best for you.  I can help guide you in this area.
I can help you find properties with positive cash flow, so be sure to let me know that you are looking for investment property. If you need a property management service for your new investment, I can direct you to the resources you need.
Other considerations
Before investing in a second home and especially before financing a second home, review the potential for your situation to change. Is your job secure or could you be moved across the country? Does your family live near you, or near enough to the property for those family gatherings you envision? Do you have extra income to cover those empty months? Is the home in an area prone to natural disasters? Is it an area useful only during certain times of the year? If your second home is a condominium or a part of an association, can you cover the ongoing dues, assessments, or fees? Does the association require owner occupation?
I can help you determine the best investment or retirement/vacation property for your situation, so call me and I will get you started in the right direction.
My Sedona Story – In a Nutshell
As my husband and I got about 10 years away from retirement, we started looking around for that area we would like to spend a lot of time in.  We did not make a determination if we were going to completely start over. We figured that would come with time.  Our base would still be our main home in California.  We were realists and knew that circumstances can change with every passing year.
Many states and areas were on our "list".  Hawaii, Washington State, Oregon, the California coast or desert, Nevada, Texas, Georgia, Florida and parts of the midwest. Oh, Arizona was high up on the list. Every vacation included a question, could we retire or have a second home here.  Once we visited Enchantment Resort in Sedona, the decision was made to start looking for property.  At that point, we were about 6 years away from retiring. We secured a real estate agent on that same trip.
At first, we were looking at raw land or lots to build our dream home. We visited during  the winter and summer to make sure the climate was not a problem. As our search continued, it also changed.  We started looking for a second home to make sure this was where we wanted to be.  As prices started to rise, we became more focused in our search. We answered all the questions in the article above and after the two year hunt for that perfect place, we bought the current property we live in full time now.
As a team, my husband and I crossed all the same roads and bridges you may have to encounter as we made that same decision you are contemplating.  I know I can help you navigate around the potholes and forks in the road.
Compliments of Virtual Results