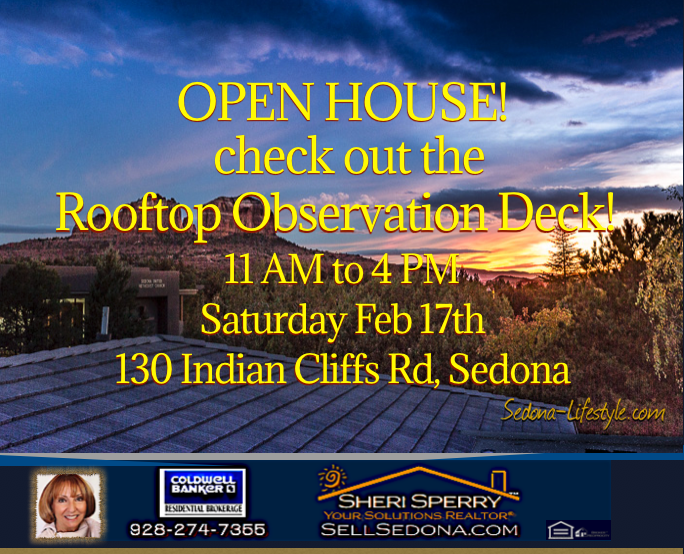 OPEN HOUSE
130 Indian Cliffs Rd Sedona AZ 86336
11 AM to 4 PM 
Saturday February 17th
Come to see the views off the Observation Deck!
~ ~ ~
If you are unable to make it to the OPEN HOUSE, Sheri Sperry will be happy to give you a private showing of this move-in ready home!
~ ~ ~
Turn east off SR-179. Sedona United Methodist Church is your landmark.  
3 BD – 2 Bath 
ABOUT ME: "Many buyers and sellers are skeptical about salespeople. So am I! But, I am not a typical salesperson. I put myself in your shoes and help you make decisions based on how I would want to proceed if I were you. In other words, what steps would I take and what is right for you? How will this transaction be beneficial for you? How will it help you move forward with your goals? How can I make it as smooth and pleasant as possible? What is in your best interests as we move forward?
Let's face it, you won't really know that I am not a typical salesperson until you get to know me. I am confident you will feel at ease and comfortable knowing I can find solutions for you. If you don't feel that way, please let me know. I want to be the best I can for you."
"I am YOUR Solutions REALTOR®" ~ Sheri Sperry
+++++++++